Many teachers would like to give better, more detailed feedback to students on their writing assignments but realize that there are not enough hours in the day to do so. With the arrival of artificial intelligence, faster feedback on essay writing tasks is now possible. The Virtual Writing Tutor offers six types of automated writing evaluation for free. For formative cover letter evaluation, see here.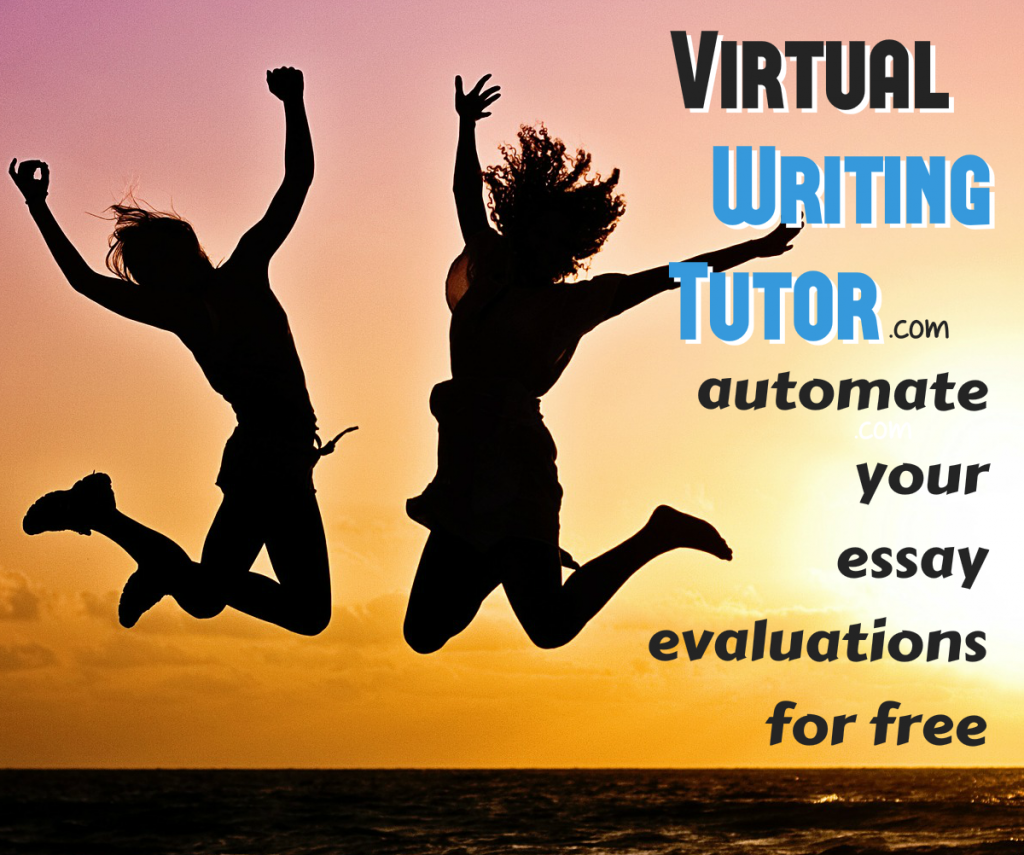 Automated IELTS Essay Evaluation
If you would like your students to practice describing a chart or graph or practice writing short academic opinion essays, there are a number of Task 1 and Task 2 automated IELTS essay evaluation tasks to choose from. These eight tests score academic essays on the 9-point scale used by the British Council to measure English proficiency and college readiness.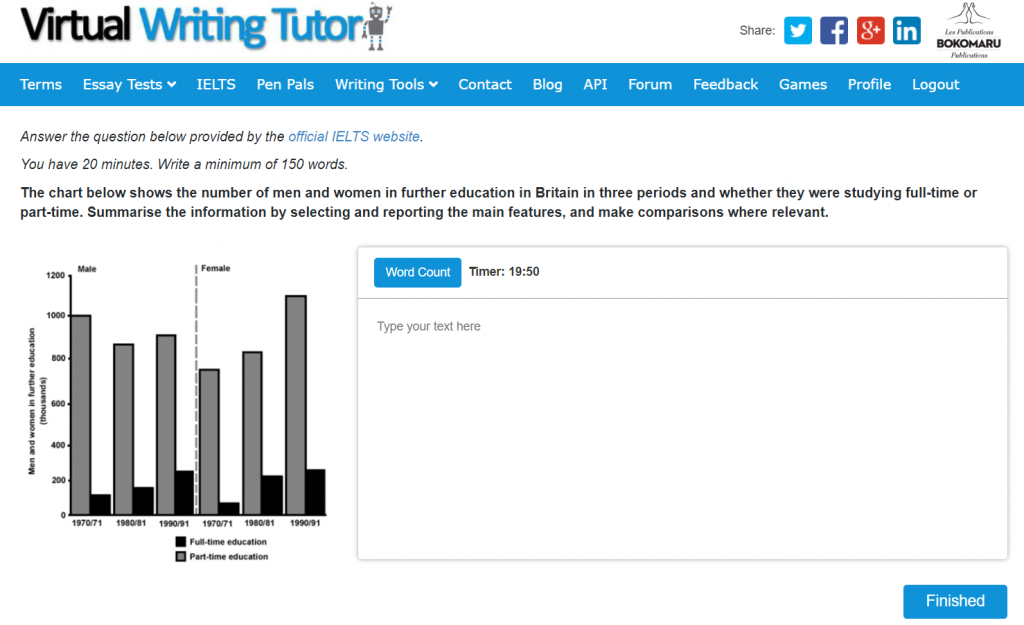 You can find the link to the tests on the navigation menu on Virtual Writing Tutor using the IELTS link. No login is required. Each test comes with a timer to help simulate the writing conditions of the official IELTS exam.
If you would like to test the system with sample IELTS essays, there are a couple of texts you can use in an earlier blog post I wrote when I first launched the IELTS band score calculator.
Automated Paragraph Evaluation
Sometimes you will want students to write their body paragraphs before they write their introductions and conclusions. In this situation, you cannot use an essay checker. You need a body paragraph checker.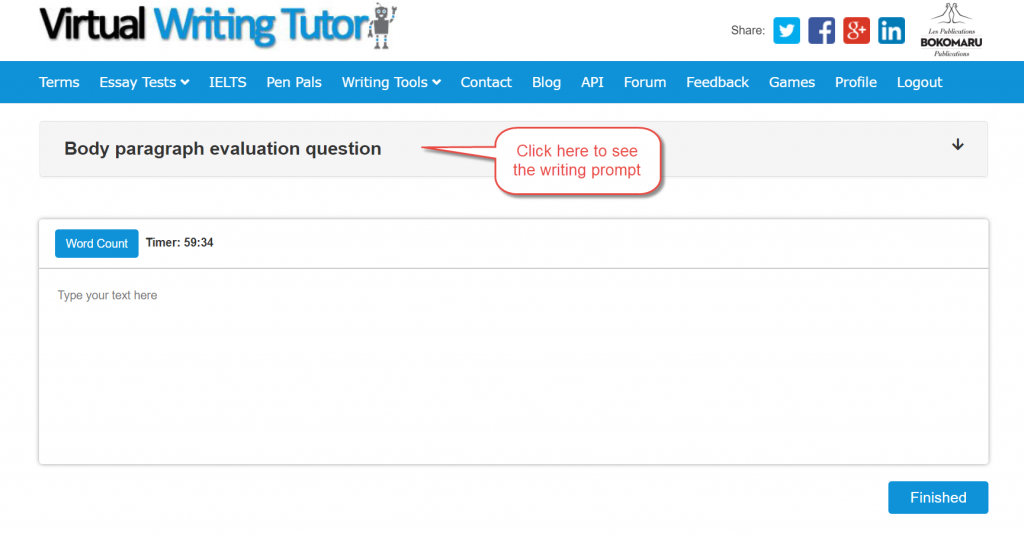 Have students paste their body paragraphs into the paragraph checker. The system will generate feedback on the topic sentence, evidence, support, and grammar. If you prefer, you can have them test the system with these sample body paragraphs.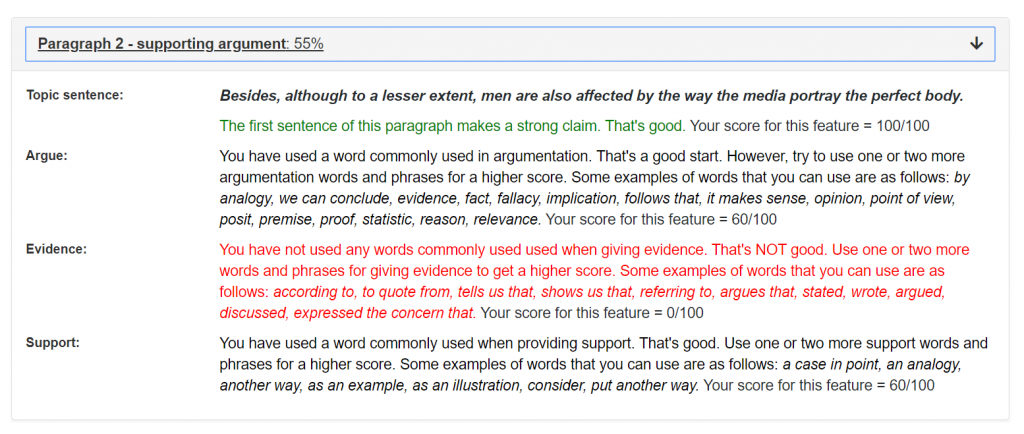 Automated Opinion Essay Evaluation
Once the students have their body-paragraphs ready, you will want them to add introductions and conclusions. At this point, they will be ready to submit their opinion essays for formative evaluation. Have them submit their writing to the opinion essay checker. There are more persuasive essay evaluation tools if you are interested.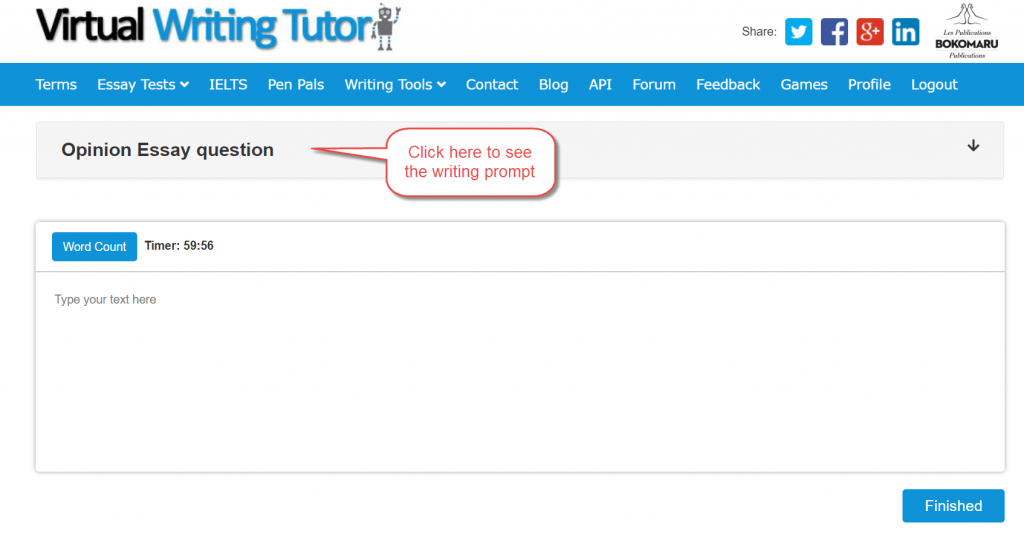 There is a sample essay to explore the system with here. The system gives feedback on each paragraph based on its position in the essay. For example, it will check the last sentence of the first paragraph for a thesis sentence and the first sentence of the last paragraph for its reformulation. Body paragraphs are checked for topic sentences.
Automated Argument Essay Evaluation
With intermediate-level students, you might want to ask them to express an opinion on a controversial topic and refute the usual counterargument. In that case, have students find the Tests dropdown menu on the navigation bar at the top of the page on VirtualWritingTutor.com, click on Actively Engaged in Persuasion (a college-level textbook by the same name is forthcoming). A button will take them to an argument essay evaluation that can provide feedback on argument essays about abortion, climate change, animal rights, body image, feminism, immigration, internet censorship, or a fast-food tax.
The automated argument essay evaluation has detailed instructions and a sample essay that you can use to test the system.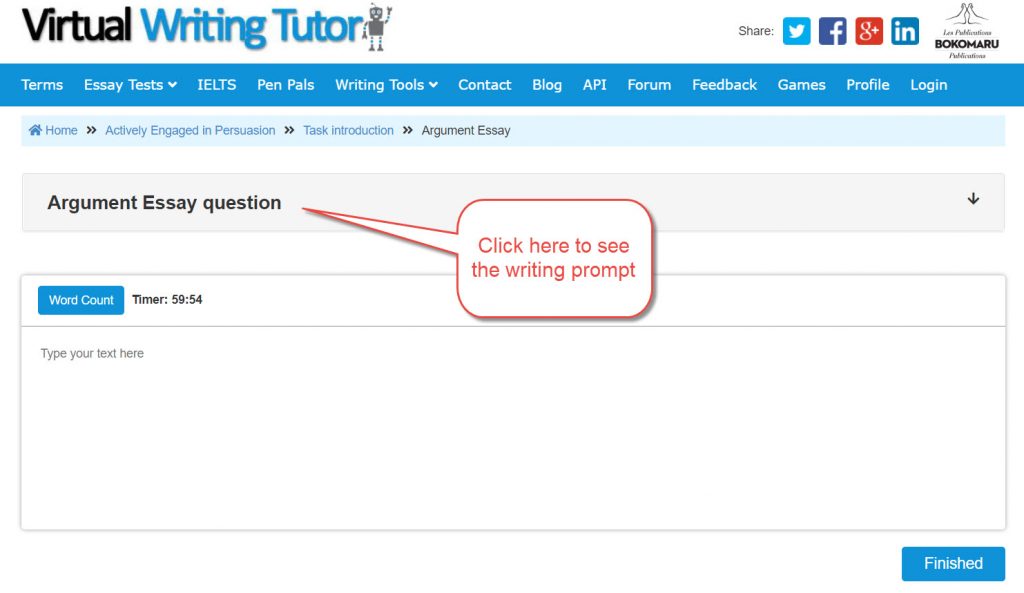 Before students rush headlong into drafting an essay, it is worthwhile asking students to research arguments for and against before using the argument essay outliner on the Virtual Writing Tutor, which walks them step-by-step through the outlining process. With a detailed outline in hand, students will be then well-prepared to draft an essay.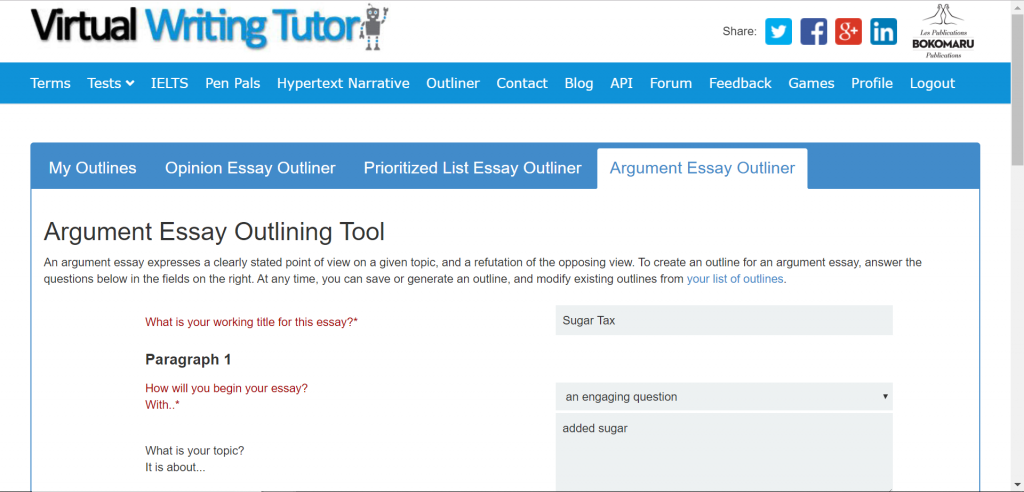 In the introduction, students should write an attention grabber, some context explaining the controversy, and a thesis containing two topics. In the first two body paragraphs, students should write supporting arguments with transition words and citations. In the fourth paragraph, students will give a counterargument, a concession, and a refutation. In the conclusion, they should reformulate their thesis and make a recommendation and prediction.
Automated Film Analysis Essay Evaluation
The response has been good from students and their teacher Frank Bonkowski who collaborated with me on the development of this writing task. I can say with some confidence that advanced students will probably appreciate how well the Virtual Writing Tutor gives students feedback and a score on a film critique in just two seconds.
I recommend asking students to write an essay on a film based on a book. You'll want to be sure that students can use literary analysis terms in their essays. Teachers in Quebec, Canada might like to order the textbook that goes with this writing task: Actively Engaged in Academic Writing.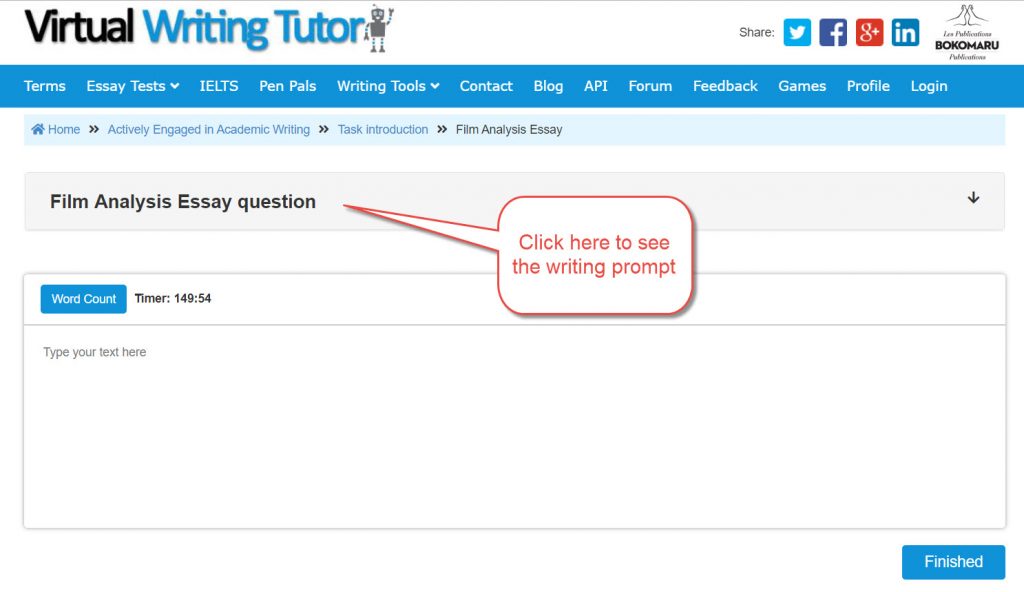 When they submit their essays, the Virtual Writing Tutor will generate feedback on four aspects of an essay: the structure, the vocabulary, the scholarship, and the grammar.
It's free and no login is required. Simply find the Tests link on the navigation bar and select Actively Engaged in Academic Writing. Again, you don't need the textbook by the same name, but it helps. The instructions explain exactly what to do, and there is a sample essay on Blade Runner to demonstrate how the system works.
The Virtual Writing Tutor will analyze the introduction for a question, some background information about the film, and calculate the strength of the thesis statement. Similarly, the system will check body paragraphs for topic sentences, cohesion words, and citations. In the conclusion, it will check that the thesis has been reformulated and not just repeated, and then checks for a recommendation and a prediction.
Students must include a Works Cited section and eliminate any grammatical or punctuation errors to maximize their scores. Because the automated film-analysis essay evaluation is self-access, students can keep submitting their essays for feedback until they get the score they want.
Automated Literary Critique Essay Evaluation
Students writing literary critiques essays can benefit from formative evaluation using the Virtual Writing Tutor's literary critique essay evaluation system. Paste your text, and get a score. Make changes, and get it scored a second time. Repeat.
Self-scoring Pen Pal Project
Pen pal messages are not essays, but the pen pal system can be used as a social essay exchange. Instead of setting up an automated email message evaluation system to instantly evaluate students' messages about their neighbourhood, exercise routine, and holidays, you can set up an essay writing pen pal exchange.
The pen pal scoring system is much less sophisticated than the other essay evaluation systems listed above. It simply attributes points for writing the minimum number of words, for using topic-related vocabulary, for eliminating errors, and for commenting on other students' essays. But as a project to give essay writing practice and for rewarding that effort before a final exam, it could be very useful.