You know someone who has just returned from a trip. You want to have a conversation with them, but you worry that you won't be able to sustain the conversation. What you need are conversation questions! Here is a list of conversation questions to ask a returning traveler after their trip abroad. Practice asking these questions with a traveling voice-enabled chatbot to prepare.
30 conversation questions to ask travelers
These 30 conversation questions are not in a strict order. However, conversations about a trip abroad often follow a pattern of general to specific. Usually when we see someone has returned, we say, "Welcome back!" We often ask general questions like "How was your trip?" Then, we ask more specific questions like "Where did you go?" Sometimes, a "Did you…?" question is enough to get the traveler talking, for example, "Did you encounter and difficulties?"
Review the questions below. If there are any words that you are not sure of, use the pronunciation app to help you learn how to say them.
Use this speech synthesis app to learn the pronunciation of unfamiliar words or phrases.

Welcome back! When did you return?
How was your trip?
Where did you go?
How long were you gone?
Where did you stay?
Did you encounter and difficulties? What difficulties did you encounter?
How many countries did you visit during your backpacking trip?
What was the best part of your trip?
What was the most surprising thing you encountered on your trip?
Did you meet any interesting locals?
What were some unique cultural experiences you had?
How did you navigate language barriers in the different countries?
What was the most challenging part of the trip and how did you handle it?
Can you share a funny or unexpected moment from your journey?
What type of accommodation did you mostly use and how was the experience?
What's one dish from your travels that you'll never forget?
Can you tell us about a moment when you were completely awestruck by the natural beauty you witnessed?
Did you find any significant differences in social norms or etiquette that surprised you?
How did you manage your budget across different countries?
Did you face any health issues or safety concerns during your trip?
What's one thing you wish you'd known before starting this backpacking trip?
What was the best piece of travel advice you received during your trip?
How has this trip changed your perspective on life or your personal beliefs?
Did you pick up any new skills or hobbies during your travels?
If you could revisit any one place you've been to during this trip, which would it be and why?
What's the one essential item you carried with you throughout your journey?
What was the most valuable lesson you learned during your travels?
How did you deal with homesickness, if you experienced it at all?
Would you recommend backpacking as a form of travel to others? Why or why not?
Where's your next adventure going to be?
Download these questions to ask a traveler or a chatbot as a PDF. When you are ready, practice the questions with Travis, our voice enabled intelligent chatbot. Travis is programmed to talk about his travels. Click here to practice these questions with travis in a new tab.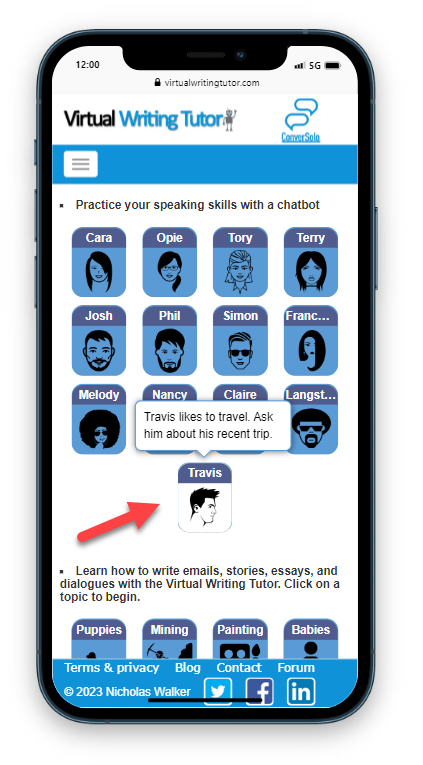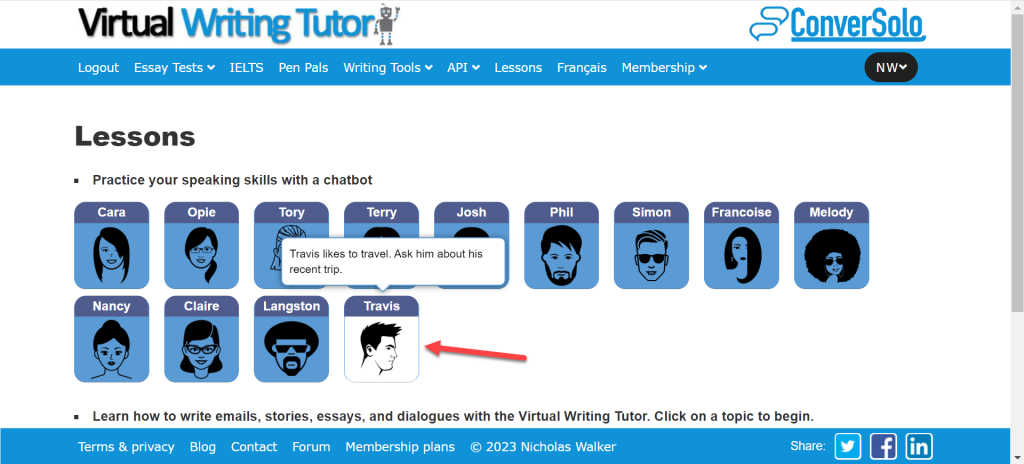 Example conversation with a traveler
Here's an example of a conversation I had with the voice-enabled intelligent chatbot with Travis. Travis will creatively invent a trip to talk about with you. His answers probably won't be the same as his answers to my travel questions.
Travel questions I asked Travis:
Where did you go?
Which of the countries you visited was your favorite?
What difficulties did you encounter?
Follow-up writing activity
After your conversation with Travis, write a summary of his answers to your questions? Where did he go? How long was he away? What was his favorite part of the his trip? What difficulties did he face? Where would he like to return? Etc. Use the VirtualWritingTutor.com to check your grammar and help you improve your writing.
For teachers
Integrate this speaking and writing activity into your Moodle course using the LTI code provide with each voice enabled chatbot. Within your Moodle course, add the "External Tool" activity with the details provided.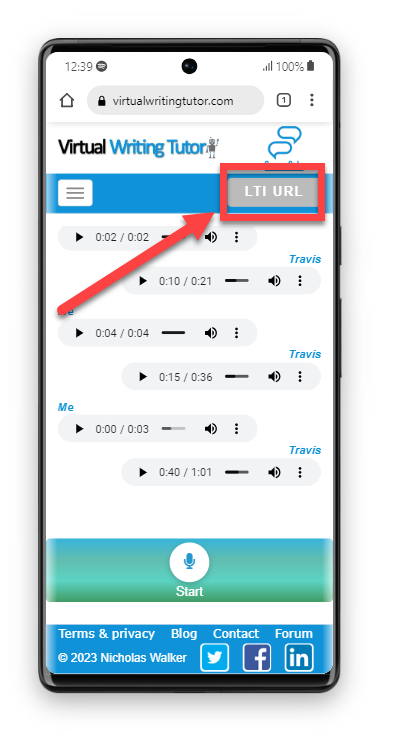 Click on the LTI URL button in the top right.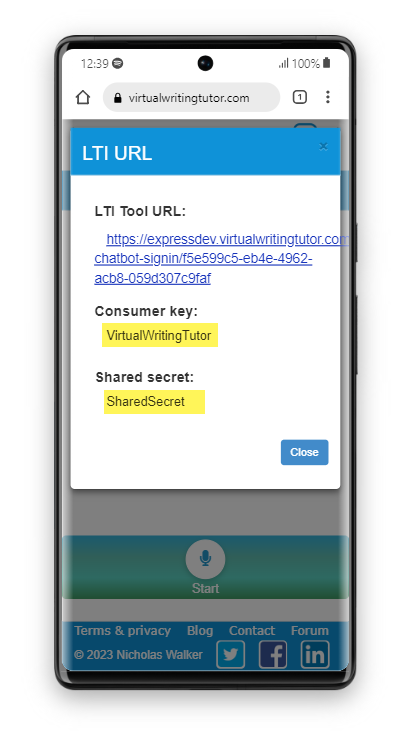 Use the credentials provided to add an "External Tool" to your Moodle course.