If you want to know your English proficiency level, look no further. The VirtualWritingTutor.com can help with the "Check Level" button on the first page of the VWT. We all know what people mean by English level, right? It's your level of skill communicating in English. Often teachers want to know a student's level to place that student into the best course to help him or her advance further. Students wan t to know their level so that they can feel confident applying to universities with a minimum English proficiency requirement.

Beginner, intermediate, advanced, native-like are all words used to describe how skillful a person is at speaking a language. In Europe, levels are described using 6 codes. Beginners are either A1 (low beginner) or A2 (high beginner). Intermediates are either B1 (low intermediate) or B2 (high intermediate). Advanced users of English are either C1 (low advanced) or C2 (high advanced). there is nothing higher than C2, a university educated native-like user of English.
In Quebec, we offer courses to low beginners (001), high beginners (100), low intermediates (101), high intermediates (102), and advanced learners (103) who may be native speakers or native-like in their proficiency. Want to understand CEGEP ESL proficiency levels? Find out more here.
In Britain, English proficiency is often described using the 9-band scale used by IELTS test examiners. There are many IELTS writing topics. TOEFL is another proficiency test offered by the Educational Testing Service in New Jersey, USA. There are also many TOEFL writing topics to practice with. Do you have a preference? Which is better, IELTS or TOEFL?
Level 1 = A1/001 = IELTS 2.0-3.0
Level 2 = A2/100 = IELTS 3.5 = TOEFL <30
Level 3 = B1/101 = IELTS 4.0-5.0 = TOEFL 31-45
Level 4 = B2/102 = IELTS 5.5-6.5 = TOEFL 46-93
Level 5 = C1/103 = IELTS 7.0-8.0 = TOEFL 94-114
Level 6 = C2 = IELTS 8.5-9.0 = TOEFL 115-120
An expert teacher can evaluate a student's English proficiency level very quickly. Clues in the student's writing allow the teacher to make inferences about the student's language development and to suggest the best course for a student. What clues do teachers look for?
The level of the vocabulary
The density of errors
The types of errors
Are your students all in the correct level? Use your expert judgement to spot the students who are in a course that is too basic or too advanced for them. Or, copy-paste the text into the VirtualWritingTutor.com and click "Check Level."
How to check your English proficiency level
Go to VirtualWritingTutor.com. Enter a text. Click "Level Check.."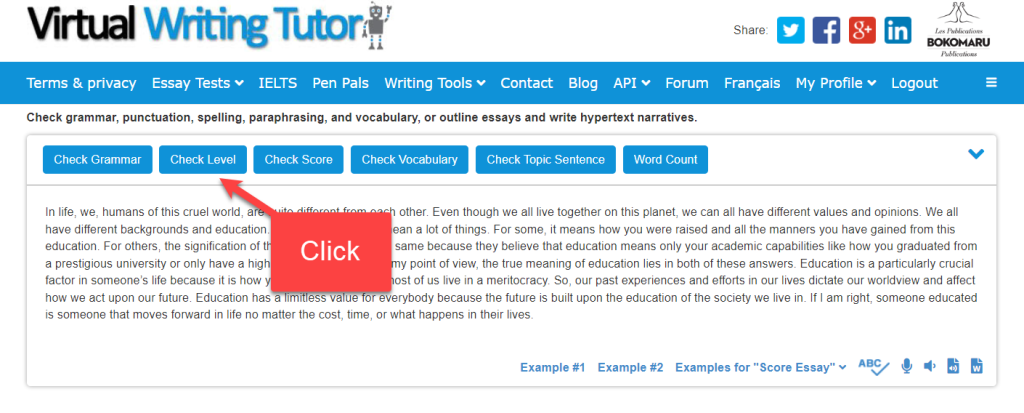 Your feedback will appear less than a second later. Look for your recommended level in the icon to the left of the graph. The graph shows your the components of the system's analysis of your text.