Many students are worried about their pronunciation accuracy and go into their oral exams woefully unprepared. The little preparation they do leaves them feeling very worried about their current ability or overconfident. In either case, the student does not perform at his or her best. If teachers could provide students with individual coaching before a speaking task, the student could gain real speaking confidence in his or her answer and pronunciation.
Timely formative feedback has a positive effect on learning for those who can get it. Sadly, teachers are not always available when you need them.
Wouldn't it be great if you could get some oral practice and feedback before you stepped into the examination room?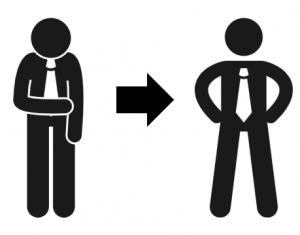 If you worry about your grammar and pronunciation during oral proficiency tests, the Virtual Writing Tutor's IELTS speaking page can help.
Oral exam worries?
These are very common concerns that students have. But don't worry. The Virtual Writing Tutor can help. Consider these benefits.
Pronunciation checker benefits
Here are the three benefits you will receive by using the Virtual Writing Tutor's speaking task training system:
Grammar and word choice feedback help you improve the quality of your answers.
Text-to-speech pronunciation models show you how to pronounce words correctly.
Pronunciation accuracy feedback shows you the location of your pronunciation errors if you make a mistake.
These three features will help students make progress toward goals of accuracy and real confidence. Watch the video below to see a demonstration of the oral exam preparation system. It is easy to use.
Steps to follow
Click the button below to open the pronunciation checker in a new tab and get started. Read the step-by-step instructions below.
We made the system intuitive to use. You won't need much training if you are willing to explore. However, if using the system seems less than obvious, don't worry. Here are the steps to follow after you have selected a topic. Look at the numbered diagram below to see where to go.
Click on a question to reveal the text area and buttons.
Compose your answer — Do not skip this step!
Next, click on the speaker icon to hear your answer pronounced.
Click "Check Grammar" to get feedback on any grammar errors.
Afterwards, click "Record" and read your answer aloud.
Click "Stop" and "Evaluate" to receive an analysis of your pronunciation accuracy.
Review the phonemes in red a yellow below. These colours indicate pronunciation errors.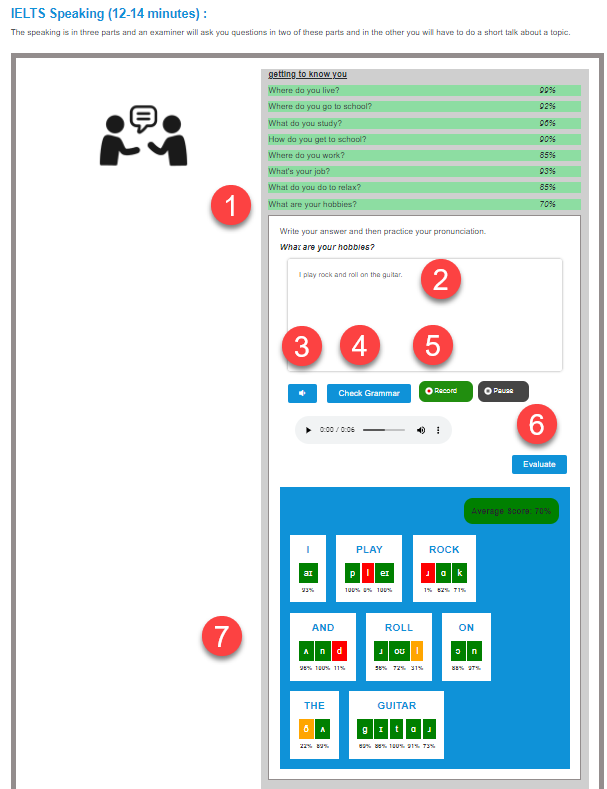 Track your pronunciation progress
Before you get started, the system requires you to sign in. Why? So that it can store your feedback and progress. You will be able to work through each of the questions on the list until you have mastered the grammar and pronunciation of every answer.

Cost to gain speaking confidence?
Finally, we should mention the cost. The pronunciation scoring system is 100% FREE for you to use. We have not placed any limits on access yet. Share it with your friends, students, or teachers. We want your success.
The unlimited access and zero cost are two ways we try to make the Virtual Writing Tutor the most helpful website on the internet for English language learners.
Tell your friends.