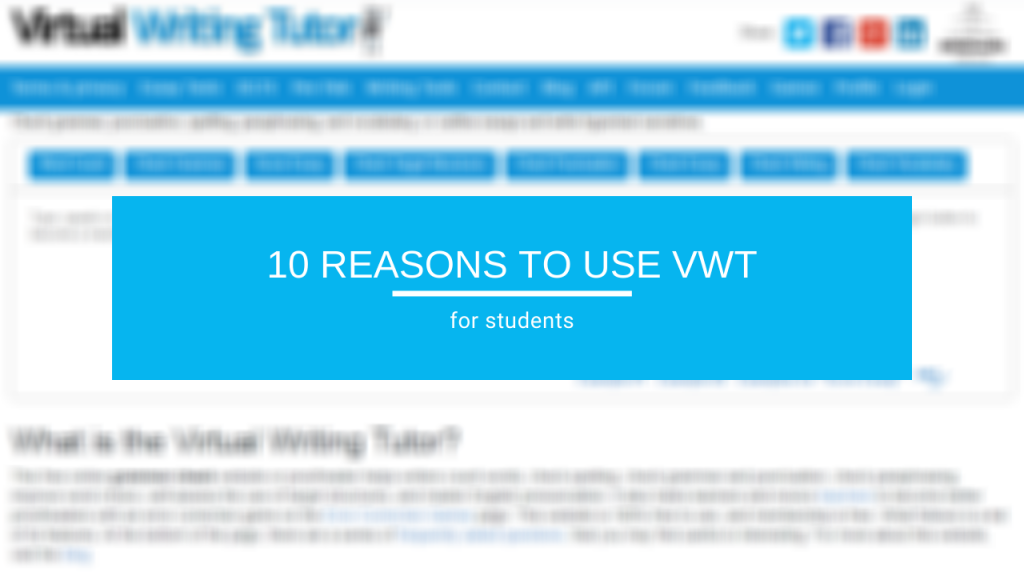 What is the best grammar checker for students? Virtual Writing Tutor. But, anyone can say such big words about themselves and be mediocre, or even worse.
So, let me change your mind.
VWT was created for students like you. To meet your needs. And to relive the pain of writing errors in your academic life.
A lot of work was done for it to be useful to you (it was developed for 8 years). Now your student life is easier. Using VWT allows you to have more free time and use it for fun.
Counts Your Words, Checks Your Grammar, Reviews The Punctuation
These are the basics that every grammar checker should cover. Even if you wrote in a hurry or just need one last check up on your text, a good grammar tool always comes in handy. You may now think that VWT is not so special, but let me give you more information.
Imagine this your teacher gives a certain number of sentences to be written by you, what will you do? Will you count every single sentence? Of course not. This is boring and unproductive.
You'll search for a way to get this done faster. And the solution? Well, VWT is here to do the work for you. It counts your words, sentences, and paragraphs. Impressive, huh?!
Your text is scanned and then, the errors are written in red so you don't waste time searching for them. VWT gives you detailed feedback on the type of mistake committed and clear advice on how to correct them.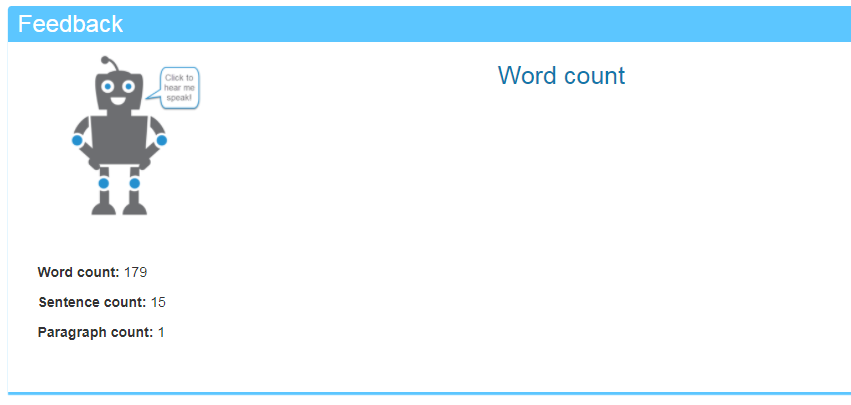 Play Games and Upgrade Your Grammar Skills
Who said playing is only for kids?! Well, that's a lie. Playing is one of the most effective ways to learn new rules and concepts. Learn grammar the easy way. Therfore, let me share three games for you to try right now:
The Random Error: generates a sentence (you choose the level of hardness) and explains clearly the mistakes that occurred. The game is perfect for studying English grammar by yourself. You can add your sentences to learn directly from your text.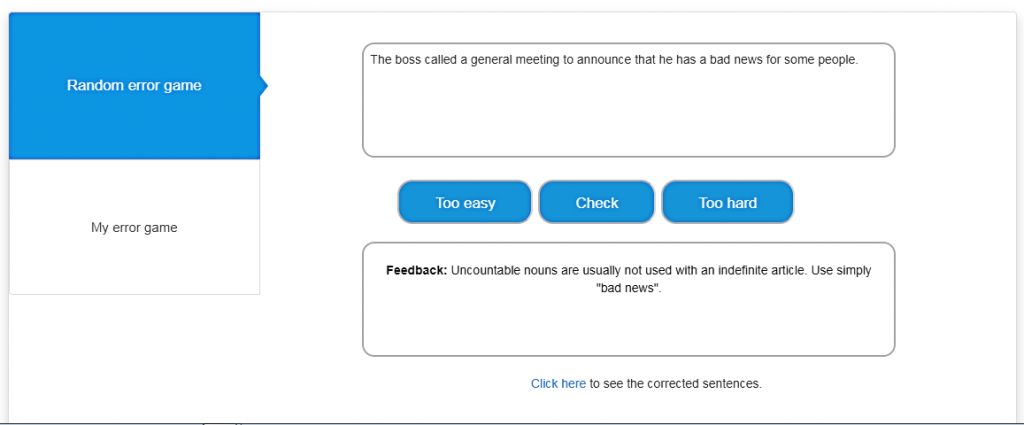 Glossary Card Game: Improve your vocabulary by memorizing words and their correct spelling. Try the game if you want to get better at writing, communicating, and even public speaking.
Matching Rebuttal Glossary Definitions: This is a matching game where you have to choose the right sentence for each word given on the left side. It's a must for students who would like to memorize word definitions fast and with low energy spending.
Get Your Essay Scored In 2 Seconds (Up To 4 Types of Essays)
Picture this, you've just finished your essay and are going to hand it to your teacher. But, you know that it takes time until your grade is revealed.
Anxiety starts to arise from the deepest part of your heart. You don't know if you did well and get stressed. You start to have sleepless nights. Everything just falls out of place.
But, how can you avoid this? Easy.
Get your essay scored in 2 seconds. And I mean 2 SECONDS. Not weeks, not days. S E C O N D S. So, how do you get it?
Simple. All you have to do is to copy & paste your text.

Then choose your essay type. Click "Check".

Ta-da! You have your essay automatically scored. It took only 2 seconds.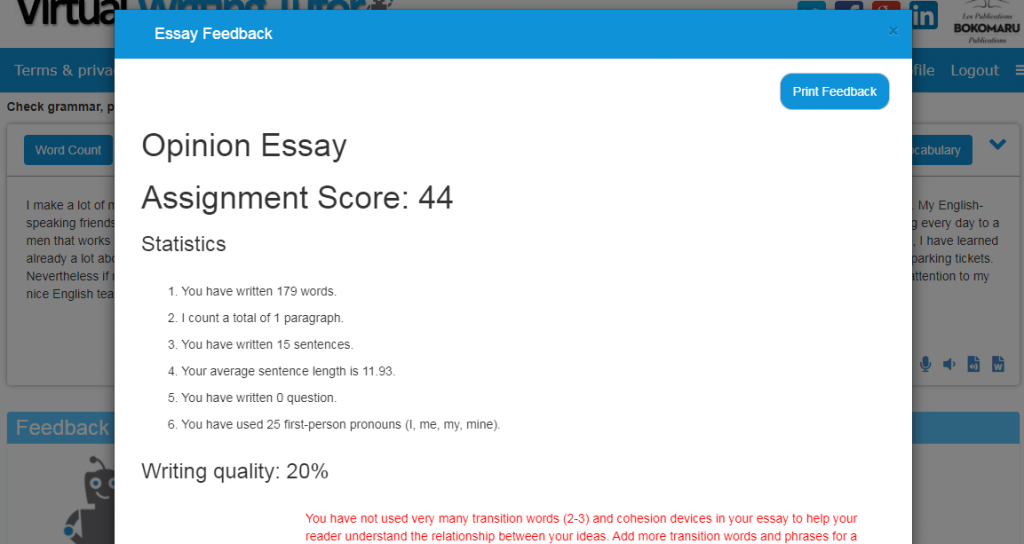 Get Detailed And Clear Feedback (One That You Actually Understand)
So what have you got now?
Well, you've got some basic statistics, like the number of words, sentences, questions, etc. But this is not all.
Virtual Writing Tutor provides you with an analysis of your entire essay structure and content for every single paragraph. Likewise, it checks your vocabulary, language accuracy, and grammar. After that, VWT gives you feedback on all of the errors.
Therefore, you can understand the feedback and use it to improve your essay. These are not just some words written on the edge of your paper. The feedback is comprehensive. You can make sense of it.
And by the way. If you need the inspiration to get your essay started, check the examples. Just click the "Example for Score Essay" button, choose the type you need, and here you go. As simple as that.
Above all, you get to print your feedback if questions occur with your teacher. Or if you want it on paper. And don't worry, you'll not lose your progress. In other words, VWT saves it in your account history (for members only).
p.s. Membership is 100% Free.
Learn To Write An Essay From 0 To Perfection
If you have no idea how to start your essay, VWT comes to rescue you. The "Essay outliner" tool provides you with a practical guideline for 3 types of essays: opinion essay, prioritized list, and the argument essay.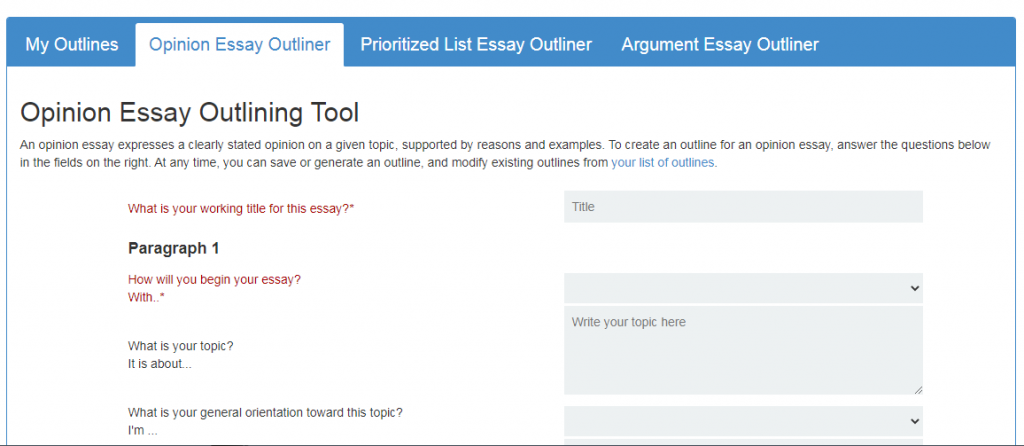 How does it work? First, choose the essay type for which you need guidance. After that, you'll get a list of questions, ordered logically. And your third and last step is to answer them. As simple as that.
Our advice, don't overthink, just write everything that comes to mind. In the end, you'll get your draft. This way you'll be done with your essay in meantime.
Polish Up Your Text With The Right Words
Research says vocabulary is one of the keys to a student's success in academic life and even impacts his/her future income level.
Therefore, developing and using professional vocabulary is crucial for your success. That's why you need to check the glossaries our VWT provides for you.
Improve your essay by using words from the 66 argumentation terms or the 15 rebuttal terms (you decide). If you get a grade raise, don't blame us for your success, you've done it all by yourself.
Get Instant Access To The Glossary Of Any Book or Create Your Own
Students need to write essays on a lot of topics, most of them from books. But how can you write one when you don't understand the entire book?! Some were written 30 years ago, or 100 years ago.
But no matter the time, words still need explanation. Will you go to check every single one on Google? What if I said that you can have all the unknown words explain in one single place?
Well, it's true. Right now VWT has 565 examples of glossaries on topics from "The Life of Elise's Cat" to "Weather Glossary".
Go and check the glossaries. Click on the "Glossary Creator" tool from the top bar "Writing Tools" list. Go to the "Examples" button and find the one you need. See, you got rid of the headache of unknown words in literally seconds.

You can create your glossary and help other students like you. For guidance, see the tutorial on how to create yours.
Ask For Help and Feedback From Real People
If you are worried that your teacher, will not grade your work as the AES (Automated Essay Scoring) tool did, don't. If you have any occurring questions you may be afraid to ask your teacher. Don't.
Why? Because you've got the VWT Forum. Teachers, professionals, and other students like you, are there to help.
So if you have a question, don't be afraid to ask. If you have doubts about your essay or grammar, post it in the forum. You'll get instant support and advice.
Become An Expert On IELTS
Ever thought that getting your IELTS is hard?! Well, it is. But we've got a short and compact guide for you on IELTS. Because we want you to have everything figured out and never fear the unknown.
We even got you materials to practice for IELTS test online (the writing part). Here you get to test yourself on about 100+ automatically scored tests with instant feedback. And you can choose to see a "Model answer" to get a better understanding of the task.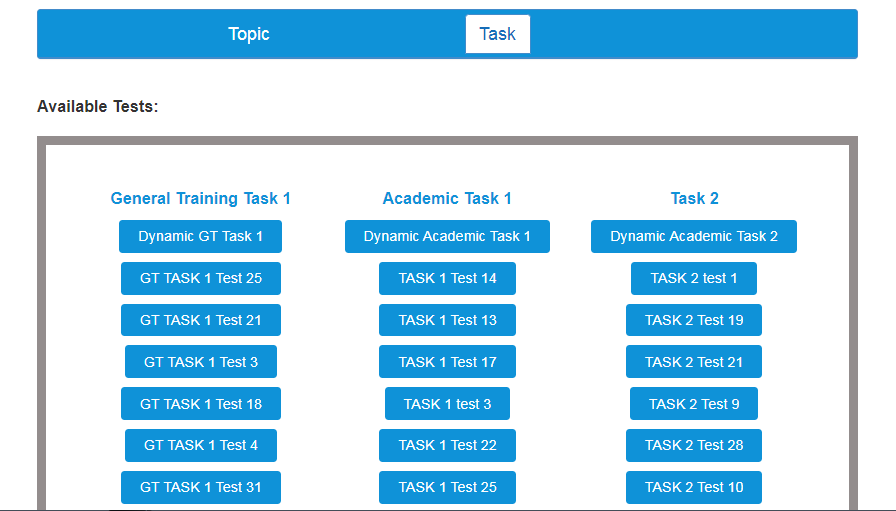 And that's not all. You have direct access to 240 IELTS essay writing topics. Pick one to start and practice, practice, practice.
What Do You Want To Be When You Get Older? (Read The Career Summary)
VWT provides you with a tool named "Career Summary Chatbot". There you get to read all about the 220 career descriptions by clicking on the "Examples" button.
So if you are not sure what career to pursue, go ahead and check the Career Summary Chatbot right now. You'll for sure get some amazing ideas to start on with. And if you wish, share your experience with other people by creating your career summary.
The Best Part: You Get All The Benefits For 100% Free
This article sounds like it's selling something. And it does not feel right when people sell to you, doesn't it?!
But here is the thing. I'm honest with you. Use VWT for 100% FREE. No freemium, premium, or hidden proposals. Only free content, free tools, and free advice. That's it.
I mean, the membership is free. What other grammar checker gives you a bunch of benefits for free? You'd be a fool not to use VWT to get your student life upgraded. And you'd be an egoistic fool if you don't share this with your friends and classmates.
So don't be foolish. Sign up and share this blog post with your friends. Do it now, or never.
Let's Sum Up. What Benefits Do You Get From Using Virtual Writing Tutor?
Your words are counted, your grammar checked, your punctuation reviewed.
Improve your grammar skills by playing games (The Random Error, Glossary Card Game, Matching Rebuttal Glossary Definitions).
Your essay is scored in 2 seconds (4 types of essays).
Get detailed feedback that you understand.
You'll learn to write an essay from scratch (even if you don't know what an introduction is).
The opportunity to polish up your academic writing (use the rebuttal and argumentation terms).
Instant access to glossaries of 574 books and texts (and you can add your own).
Find students like you, teachers, and learners of English. You'll also get support and help in the Forum section of VWT.
Practice for IELTS writing part online and see what the top 240 essay topics are.
Read everything about every career in the world and choose yours. Get the confusion the uncertainty out of your life.
All of this is Free.
Become a member now. Sign up and share this post with your friends and classmates.