A guest blog post by Lisa from Think Tank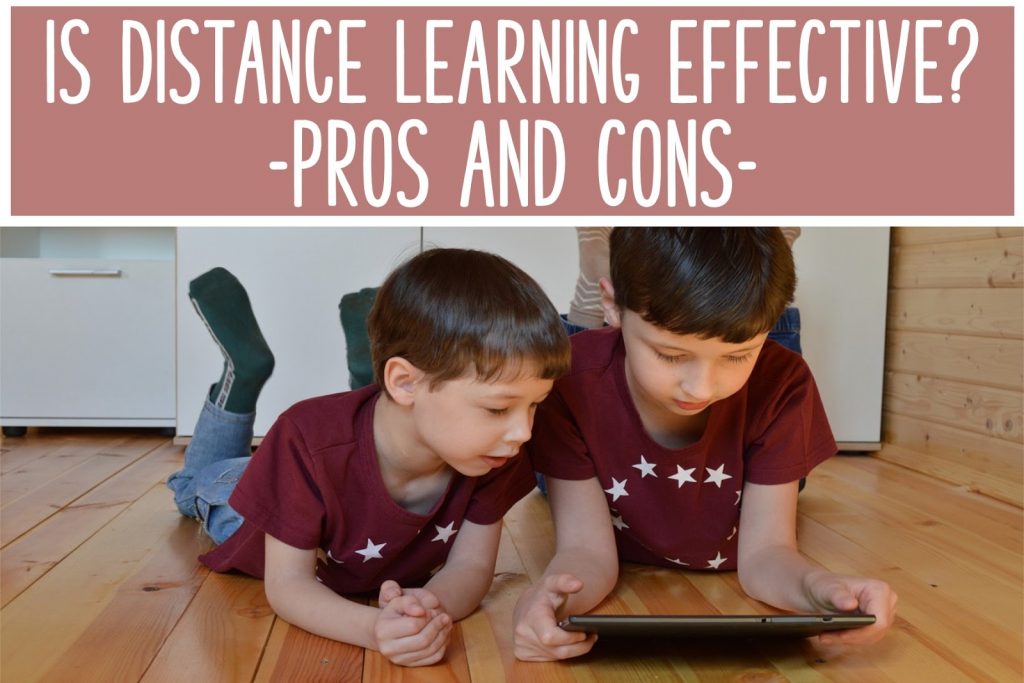 We've all been tossed out into the virtual world. Virtual (online, distance) is a different platform that is intuitive for some teachers and students but problematic for others. It's left all of us wondering if distance learning is effective? Let's take a closer look at the pros and cons of distance learning for teachers and students.
Pros: Flexibility
Teachers
Theoretically, you have the flexibility to prepare ahead of time, but there is always an obstacle in the physical school building. Copiers get jammed or last-minute copies need to be made. After another million distractions, you are too often running just ahead of the class session. Distance learning allows you to prepare the work ahead of time and make adjustments whenever you want! You can work according to your own schedule, whether you're a night owl or an early bird.
Many teachers are also allowing for assignment flexibility, which has made an impact on students.
Students
In addition to flexibility for you as a teacher, distance learning also allows for increased flexibility for your students. Students have the flexibility to access materials when they want to, which allows for increased productivity. Some students seem like geniuses at 10 pm when they could barely function in the classroom at 10 am. This flexibility works so well for so many students.
Cons: Flexibility
Teachers
On the other hand, you may have to prepare more work now, which takes more time and adds to your workload. You can prepare in bulk, but you still have to be available for that increased flexibility for each student and in many cases, their parents, too! Of course, you have administrative mandates on top of your teaching mandates. Many teachers are left feeling like they're being pulled in so many different directions from work and family. Working from home means we are constantly in the same world: live, work, and function in our homes. Best of all, teachers have the flexibility to try new things such as Digital Escape Rooms to help students think critically while at home.
Many students are sharing these feelings of being overwhelmed, and for some students, flexibility leads to more problems than benefits.
Students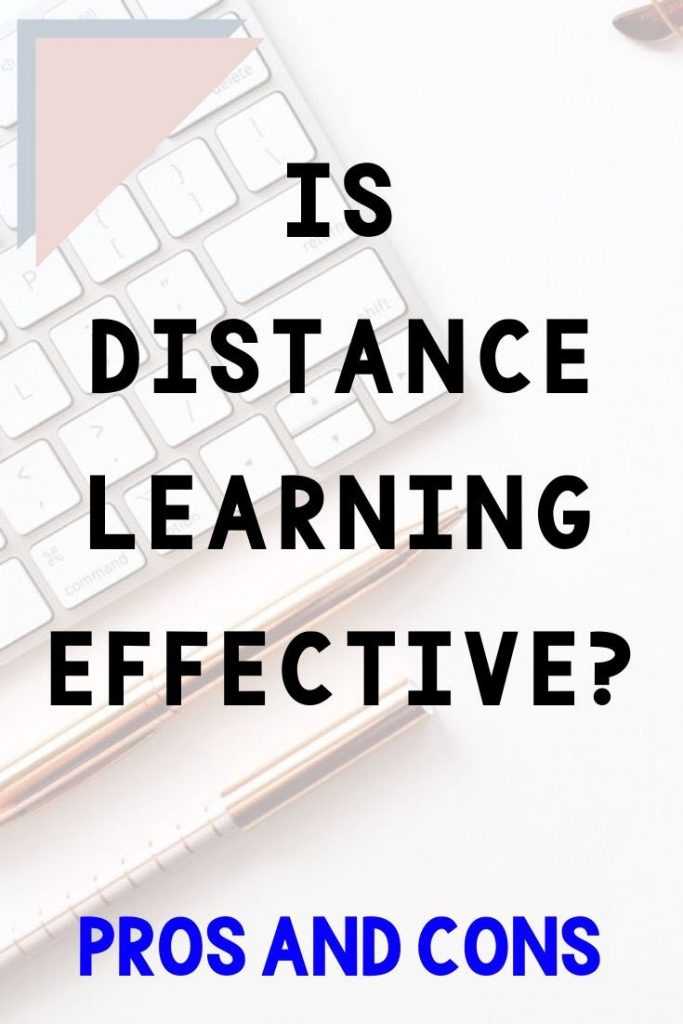 Your students live by routine. The majority of our lives are carved by routine even as adults. For young, developing minds, flexibility means a lack of control. Instead of completing work at an alternative time, some students are not completing work at all. For those students, flexibility means they are not accessing materials, and for many, there is no guidance at home that helps them understand deadlines. Flexibility often removes the expectation of responsibility, and we are seeing that with distance learning.
Pros: Distractions
Teachers
You are faced with distractions daily: other teachers, administrators, students, meetings. There are so many distractions. Now, you are able to be at home with your family. It's so nice to be able to use the bathroom when you need to go. The reality is that our families are also distractions, but they're the distractions we love.
For students, the distractions can be less at home.
Students
Consider all the distractions in front of students in a building: friends, bullies, status. There are factors in the building that most teachers do not think about daily. Your students do. When asked what the best thing about distance learning was, one student (Wyatt Brandon, freshman, 15 with special needs) said, "Safety. I don't have to worry about bullies." Despite a world of love and support, your students are faced with distractions daily at school. Distance learning gives them an opportunity to feel safe from others and safe from distractions.
Cons: Distractions
Teachers
As much as we love our own families, they can be a distraction. So are the mound of dishes and the pile of laundry staring at us, pleading to be cleaned. These distractions can include doing what we love over what we need to complete. It's hard to stay motivated to do something when other things are distracting you.
Students
Students are also struggling with distractions of their own. Think about the kid who sits in the front of every physical classroom. They zone out everything behind them. Even the kid who sits in the back only has to see everything in front of them. With distance learning, distractions are everywhere especially in the online meeting platforms like Zoom or Google Meet. These platforms can be difficult for students. They sit in front of a screen that requires more focus and attention than a traditional environment, and there are so many distractions on and off-screen. For example, seeing all aspects of everyone on screen, keeping up with who is talking, trying to figure out the technology, and everything outside the screen at home can be difficult. Factor in any technical issues and student motivation can decline. Distractions are a large factor in why distance learning isn't for everyone.
Pros: Access
Teachers
Much like flexibility, access is a benefit to distance learning. Access to technology is beneficial for students, but it's nice for teachers to have access to so many tools. You have access to almost anything as long as you have an internet connection and an internet-enabled device.
Students
Many students have access to tools as well. Today's students are being introduced to forms of technology that they can use throughout their academic careers and into their career fields. Distance learning is preparing them for their futures.
Cons: Access
Teachers
As teachers, we tend to put our own needs at the end or off the list. Therefore, our own access may be limited. Who has the money to buy a laptop with a nice camera, great audio, and an amazing processor to be used in a secluded office? Not all teachers have access to the technology that is needed for distance learning. Additionally, some may struggle with their own spaces.
Students
As we all know, student equity and student equality are not distributed fairly. Some of your students struggle with access to physiological and safety needs, so their educational needs are often the last priority. They may not have devices or know how to use them. If a student is trying to access online platforms at the same time a parent may be for his or her job, the bandwidth becomes an issue. If you have more than 3 people streaming at the same time, for example, distance learning can become very difficult.
Pros: Communication
Teachers
Distance learning also gives teachers multiple methods of communication. In a school, students physically have to find their teacher, and parents are left trying to figure out when and how to contact us around their busy schedules. With distance learning, emails and course platforms like Google Classroom, Seesaw, or Canvas are readily used, giving teachers and students multiple platforms to communicate. Additionally, the chatter of student-to-student communication is almost completely eliminated.
Students
Like you, your students are able to access multiple forms of communication to contact their teachers. Distance learning gives your students the opportunity to practice communication techniques that they will use for the rest of their lives. Professional communication begins with distance learning.
Cons: Communication
Teachers
Although distance learning gives parents and students multiple methods of communication, it can be a bit overwhelming at times. Some parents are overcommunicating while others are virtually silent. For some of us, we have to track all of those pieces of communication no matter how big or how small. And we all know how information can be misinterpreted online.
Students
Some students feel overwhelmed with the communication from teachers while others are underwhelmed and haven't heard much from teachers. If you are a student's favorite teacher, and that student has heard from other teachers but not from you, that student is going to miss you and your communication. Some teachers are only available at certain times, which works well for organization but not well from those students who are accessing materials at odd times/hours. Distance learning can be difficult for a student who is struggling with communication.
Pros: Organization
Teachers
You have many tools to help you stay organized and focused in your classroom. You can outline projects step-by-step, and with distance learning, you constantly have a place to point back to, confirming that it was in the instructions.
Students
Students also have more flexibility with their organization through distance learning. Most teachers have met that kid who never writes anything down, throws all papers away on the way out of the classroom, and generally has no regard for organization. That kid will thrive in the hands-off nature of DL.
Cons: Organization
Teachers
You work so hard on your classroom to get it organized and to practice procedures at the beginning of the school year. With distance learning, you have to completely reconfigure that organization and those procedures. And unless you get to go back to your school to retrieve items, you may be left without the materials you need.
Students
The chief complaints among students are that instructions are not clear enough and some schools are allowing teacher freedom on platforms, which means too many different platforms. If three teachers use Google Classroom and three teachers use Canvas, it's difficult for a student to navigate between those two platforms. Some students struggle to follow instructions, so without clear-cut instructions and similar platforms, they can easily become overwhelmed with distance learning.
Distance learning is a great platform for those who are prepared to deal with glitches and inconsistencies. But without that preparation, it's difficult to buy into the benefits of distance learning. How do you feel about distance learning? Is distance learning working for you and your students?
For off-line programs, try ESL Directory – The most comprehensive ESL Program Listing online