After nearly eight years of development, the Virtual Writing Tutor is becoming a potent resource for students and teachers. Here are some ways you can start using the VWT to help your learners learn faster and better.

The Virtual Writing Tutor started its life as a simple grammar check website in 2012. Now, eight years later, there is a lot more to it, but the grammar checker function is still the most popular feature for most of the approximately two hundred thousand visitors to the VirtualWritingTutor.com per month. Perhaps, the biggest reason for its popularity is that it is a 100% free grammar checker, forever.
There are other grammar checkers that you can pay for, but I am working hard so that you and your students always have a free option at hand. My theory is that a free online grammar checker can be a source of lifelong learning, but only if students get enough positive experiences using it for the grammar checker to become a beneficial habit. Asking students to use the VWT once or twice a semester is not enough.
Here's my advice.
How can I use the grammar checker?
Whenever you ask students to write something for homework or in the computer lab, ask them to check it for errors using the the Virtual Writing Tutor. Give them a point for using the VWT to eliminate their errors. Tell them that the development of revision strategies is one of the objectives of the course, and give students writing assignments to do every week. Repetition and perceived benefit are the keys to the development of beneficial habits.
Read student testimonials about their experiences using the Virtual Writing Tutor.
Students can't always see the errors in their own writing, so a quick grammar check on the VWT is a fast and often effective way to eliminate embarrassing errors. Regular use of the VWT makes common errors more visible. Students revise better after a semester using the VWT, even offline and during writing exams.
That's been my experience.
Extensive versus intensive correction
Research suggests that the best way to influence student accuracy is to provide focused feedback on errors. That means that if you teach past tenses in the presentation and practice stages of your lesson, you should only give feedback on past tenses during the production stage. This is what we mean by intensive corrective feedback.
Still, there are many glaring errors that take a long time to explain but are so frequent that teachers cannot ignore them in a student's writing. Correction of these incidental errors is sometimes called extensive corrective feedback.
The best way for teachers to provide extensive feedback on their errors is to get students to run their texts through the Virtual Writing Tutor's grammar checker. It's quick and easy and builds that habit of revision into a weekly routine.
Grammar checkers can't detect all the errors in a student's writing for two primary reasons. It's partly because not all the error detection rules have been written yet and partly because the system only checks one sentence at a time. A grammar checker such as the VWT can't use the information in the surrounding context of the paragraph or the world at large to determine if the student has used the correct tense.
But if a grammar checker is inherently limited, doesn't that mean that it should be avoided completely? No way.
Online grammar checkers may be the only solution to the problem of error fossilization.
Is there a solution for error fossilization?
I'll get into trouble for writing this with at least one of my colleagues, but fossilization is a problem with the instruction not a problem with the student.
Think of it this way. The error "I have 17 years." originates in the student's first language, French. Alternatively, consider the widespread use of the first-person pronoun "I" incorrectly used in lowercase. Through repeated practice of the error without consistent corrective feedback from a teacher or peers, errors like these can become stable and resistant to feedback.
After correcting the student twice or three times, a teacher may feel that correcting the student has become a lost cause and pronounce a gloomy prognosis: fossilization!
Frequent, repeated, immediate feedback will destabilize even the most entrenched errors. I have seen it myself. In a classroom full of students, more than half of my low intermediates start the semester saying and writing "i have 17 years."
Through the inherently communicative and repetitive weekly narrative writing assignments in Actively Engaged at College, all the students will have eliminated that error by week 15–with the exception of the one student who didn't use the Virtual Writing Tutor. An online grammar checker is the cure for fossilized errors.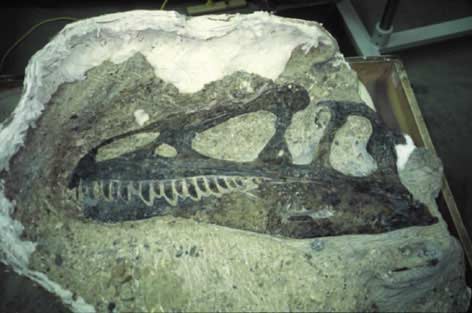 One way to build the revision habit in students is surreptitiously through a self-scoring pen pal exchange. You can set up the exchange between students in the same class or between students of different classes or colleges. As they write about their day, their family, their routine, neighbourhoods, favorite food, memorable day, and a memorable trip, the system counts their errors, their words, and the target vocabulary from the lesson, generating a score.
Students seek to maximize their scores by correcting their errors and replying to their pen pals. In this way, using the Virtual Writing Tutor as a revision strategy aligns with their desire for higher grades. When scores align with objectives, students have a better chance of succeeding.


There is so much you can do to help students learn to write better argument essays using the VWT. Here are my step-by-step suggestions. Download an argument essay writing project idea below.
First, ask students to sign up to research one of these controversies: abortion, climate change, animal rights, body image, feminism, immigration, or internet censorship.
Get groups to research their topic on https://idebate.org/debatabase
Ask each group to work together to create a glossary, card game and online matching exercise using the VWT's Glossary Creator.
Get each group member to outline an argument essay using the argument essay outliner.
Have students draft an essay and get automated formative essay evaluation from the VWT.
Have students submit their final drafts to you for your summative feedback and evaluation.
Let's face it. Some students are sloppy. You show them a standard format for a letter that could get them the entry-level job to start an exciting new career. And what happens?
They get it all wrong. So, what do you do next? You spend 10-20 minutes showing them what's wrong with your trusty red pen.
Don't get me wrong. I see value in reading students' assignments and dramatizing the presence of a reader by commenting on student writing. It is what we've been trained to do, but performing an autopsy on sloppy work is not a very efficient use of our time.
Wouldn't it be better if they could just run their letter through the VWT to get the same feedback in two seconds flat? Faster, explicit feedback with a formative score is better feedback. That's my hypothesis.
I have been working with Laurent Nicolas at Andre Grasset College to bring you just such a system. Give it a try.
If you do little else, plan to use the Virtual Writing Tutor's Glossary Creator this year. It's new and it's wonderful. Students can learn so much from this new glossary maker.
It takes approximately one and a half minutes per glossary term for a student to do all of the following:
add a term
give the part of speech
add a definition in sentence case using the integrated Google definition search
generate a text-to-speech pronunciation model
add an automatic translation
It takes another one and a half minutes per glossary term to add the following:
images from Wikimedia Commons
authentic example sentences from the Lextutor Concordancer
For a 10-term field-related glossary, it will take about 30 minutes. For a 20-term glossary, it should only take about an hour, the perfect activity for students during a computer lab hour.
By the end of the hour, students will have a published glossary, a card game to play next class with their classmates, and an online matching exercise to share with classmates in the same program during the next lab hour the following week.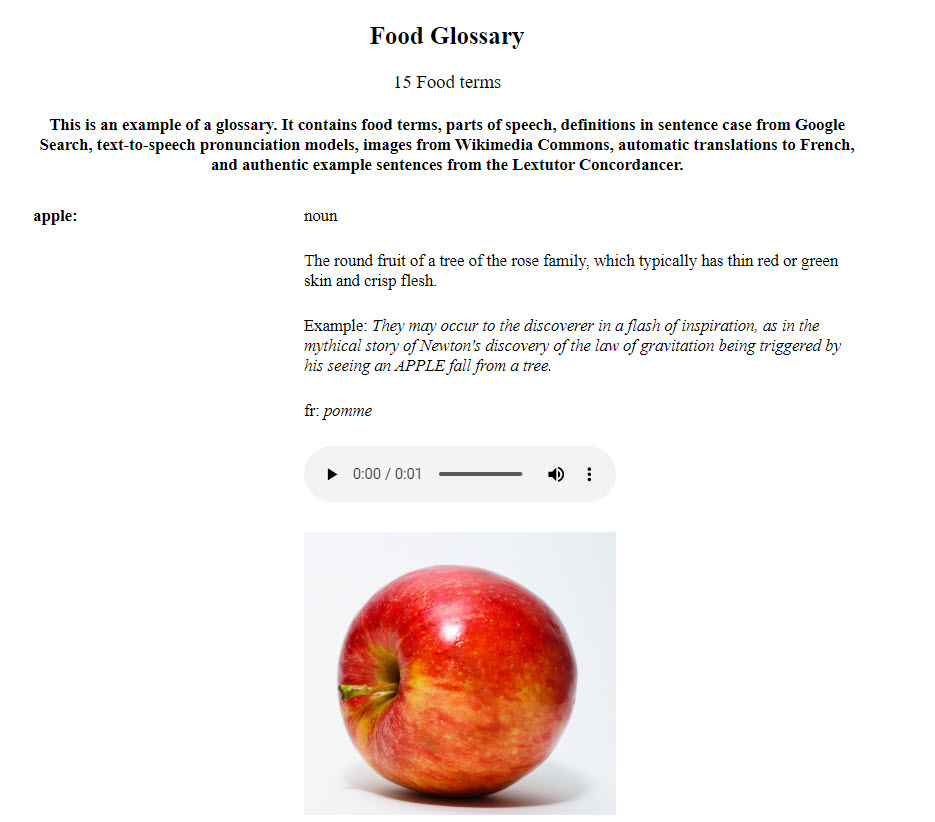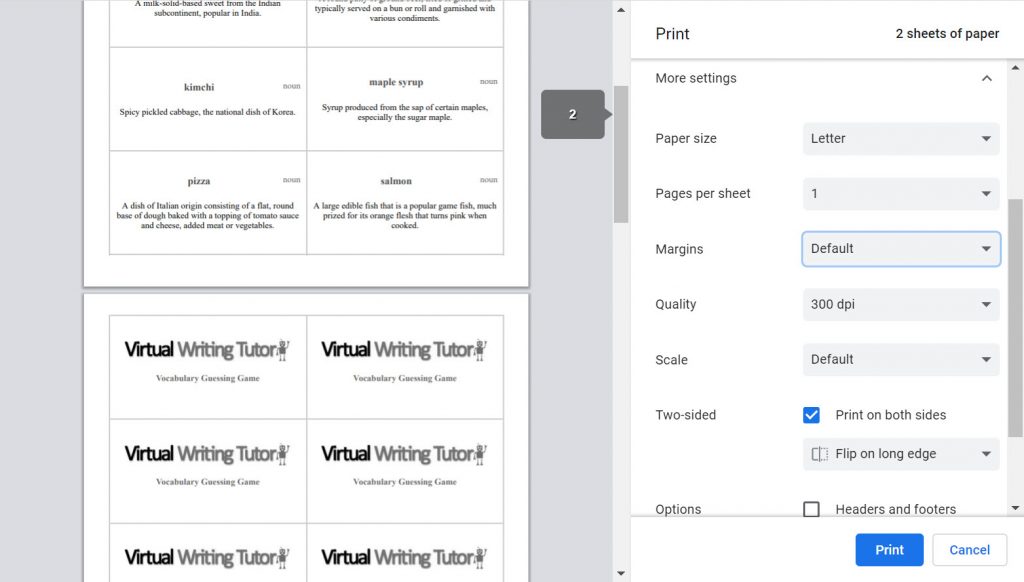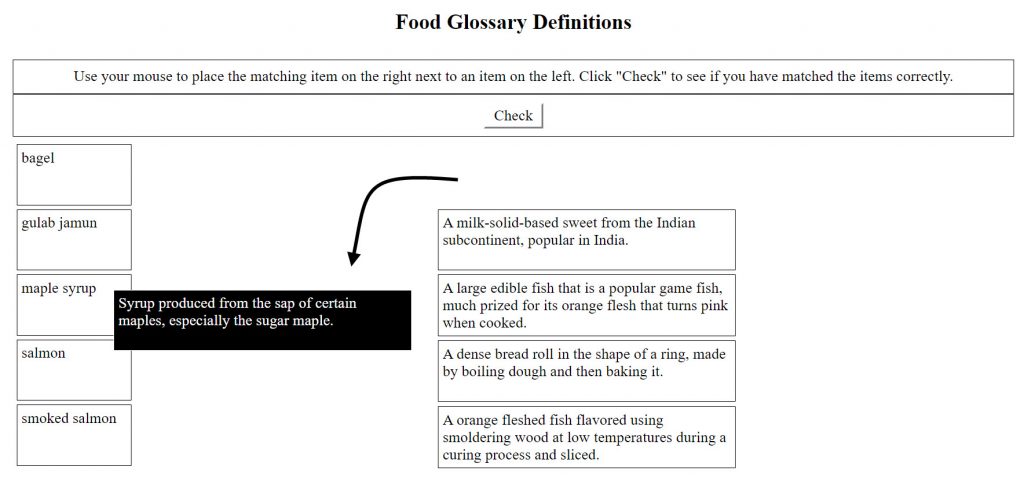 Screencast Creator
Every semester, I ask my intermediate students to create two screencasts per semester. Each time, I tell them to write a script and check it for errors. I tell them to use the VWT's text-to-speech button to help them with their pronunciation. What do they do despite my instructions and cajoling?
They wing it.
The improvised result is predictable. Students work long and hard to produce a screencast. Sadly, it is inevitably filled with avoidable grammar errors, word choice errors, and pronunciation errors, too.
I am thrilled to announce that by the end of February, the Virtual Writing Tutor will have a step-by-step screencast creator to help students produce high-quality field-related screencasts for the blogging project that we do with Actively Engaged Online. Of course, you won't need the textbook to get your students to create screencasts with the free system, but it will help if it is your first time teaching blogging.
In any case, soon enough, those days will be behind us. If I get my way, there won't be any more avoidable errors and mispronunciations filling up YouTube. My students' field-related screencasts are otherwise quite watchable. They just need a little VWT magic polish to make them really shine.
There are many new features to the Virtual Writing Tutor that you can try. Don't wait another year. 2020 is the best time to start using the Virtual Writing Tutor with your students if you haven't started already.
I have so many new features planned. On top of automatically evaluating narrative writing tasks, I intend to build a career FAQ blog post creator with embedded meaningful paraphrasing exercises and a listicle creator. You won't believe how good 2020 is going to be!
Contact me if you have any questions.