Do you teach opinion essays? Many teachers do. It is a common practice in English Second Language teaching to ask college level students to write a 4-5 paragraph opinion essay on a range of topics.
An opinion essay goes by many names. Often, it is called the hamburger essay, the 1-3-1 essay, the persuasive essay, or the opinion essay.
Learning to write an opinion essay is quite straightforward and can be taught step-by-step. It is a lot like an argument essay but without a counterargument-concession-refutation paragraph.
The form is quite consistent from one teacher to the next. Usually, an opinion essay begins with an introductory paragraph containing a thesis statement, two or three paragraphs containing supporting arguments, and a conclusion with a reformulation of the thesis.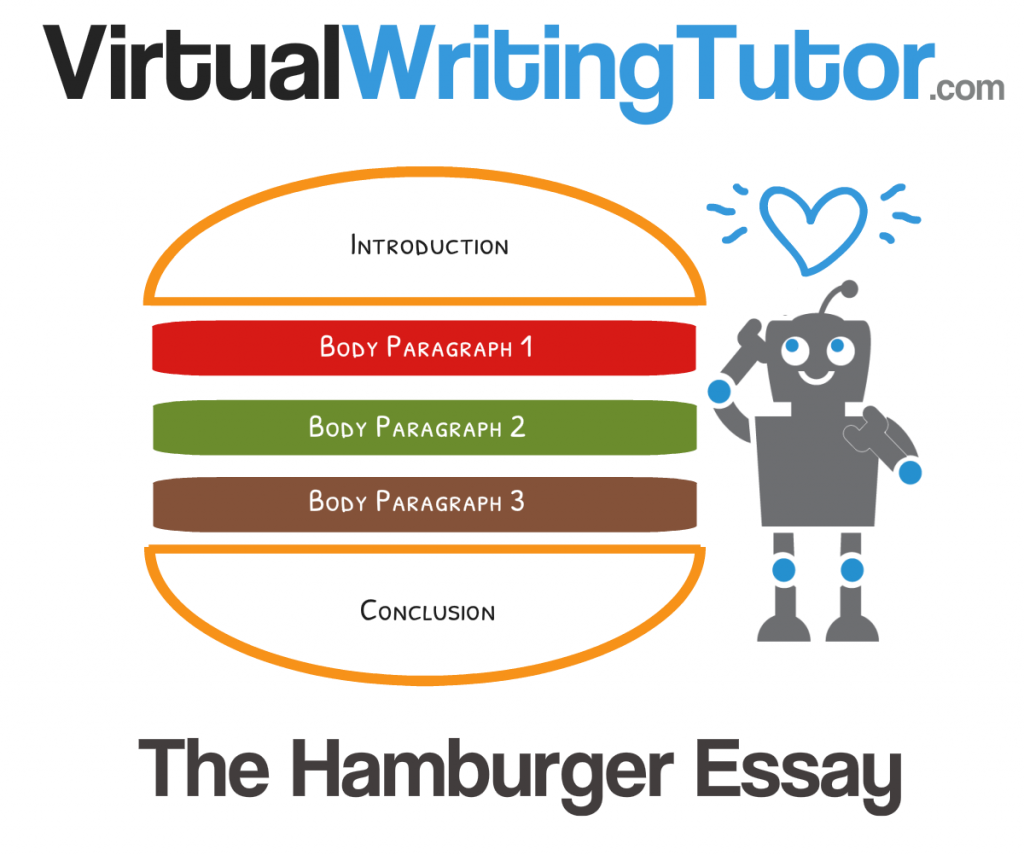 Automated Opinion Evaluation System
If you assign this kind of essay to your students, you might like to try the Virtual Writing Tutor's automated opinion essay evaluation system.
This opinion essay checker can evaluate an essay on any topic in two seconds. Use it as a formative evaluation to help student revise their essays before they give it to you for a mark that counts. It's fast, easy, detailed, and free.
By automating the provision of formative feedback, you will be able to assign more writing tasks and expect more revisions from your students while reducing your own workload. You will find that you will have more time and energy to for your students.
Opinion Essay Instructions
Instructions: Write a four-paragraph, 350+ word opinion essay on any topic. Use the Virtual Writing Tutor's opinion essay outliner. Make sure that your essay includes the following elements.
First paragraph: introduction

Opening: Begin the essay by engaging your reader's interest with a question, a surprising statistic, a famous quote, an anecdote, or expert testimony.
Context: Establish the importance of the topic. Use phrases like these: a vital factor in, the leading cause of, widely considered to be, set to become, undergoing a revolution, is responsible for.
Thesis: End your introduction with a thesis statement that makes a strong claim about a controversial issue.
2 or 3 Body paragraphs: supporting arguments

Topic sentence: Begin each body paragraph with a topic sentence that summarizes the main idea of the paragraph and supports the claim you made in your thesis statement.
Argue: Refer to facts, statistics, logic, what is reasonable, what follows from the evidence, and conclusions one can draw.
Evidence: Give evidence from your reading and research using these types of words: according to, to quote from, tells us that, shows us that, referring to, argues that, stated, wrote, argued, discussed, expressed the concern that, as written.
Support: Give examples to support your claims using words and phrases such as these: for example, for instance, suppose that, take the case of, that is, to be exact, to explain, to illustrate, to put another way, to show what I mean.
Final Paragraph: conclusion

Reformulation of the thesis: Restate the thesis in different words from the introduction.
Build cohesion: Use expressions such as To sum up, To conclude, In closing, or For these reasons.
Recommendation: Make a recommendation. Use one expression such as should, ought to, will, or going to.
Prediction: Make a prediction. What will happen if the reader follows your recommendation? Use one expression such as should, ought to, will, or going to, or likely.