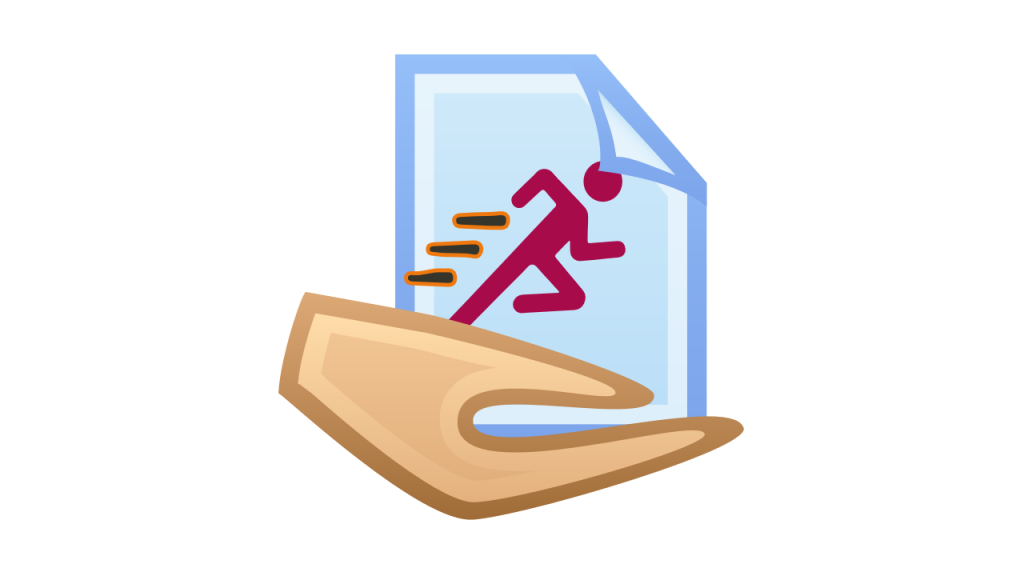 The Virtual Writing Tutor has a Moodle plugin to help students get feedback and formative evaluations of their writing assignments fast. And give teachers a break! This video explains the installation process and what the plugin does.
We have imagined a range of use cases, ranging from IELTS task 1 and task 2 writing tests to opinion essays, argument essays, literary critique essays, to cover letter writing. In each case, students can receive instant detailed feedback on their essays and teachers can score essays automatically.
You can install it directly from the Moodle plugin repository (coming soon) or download it here and install it using a zip file. The instructions are in the video above.
Screenshots of Fast Assignment
Fast Assignment requires an API key to work. You can get an API key from the Virtual Writing Tutor. I am committed to keeping the cost of the API as low as possible. Non-profit organizations and public college and universities teachers can get additional hits just by asking for them on the contact-us page. (I may ask you to help spread the word in exchange for free hits.)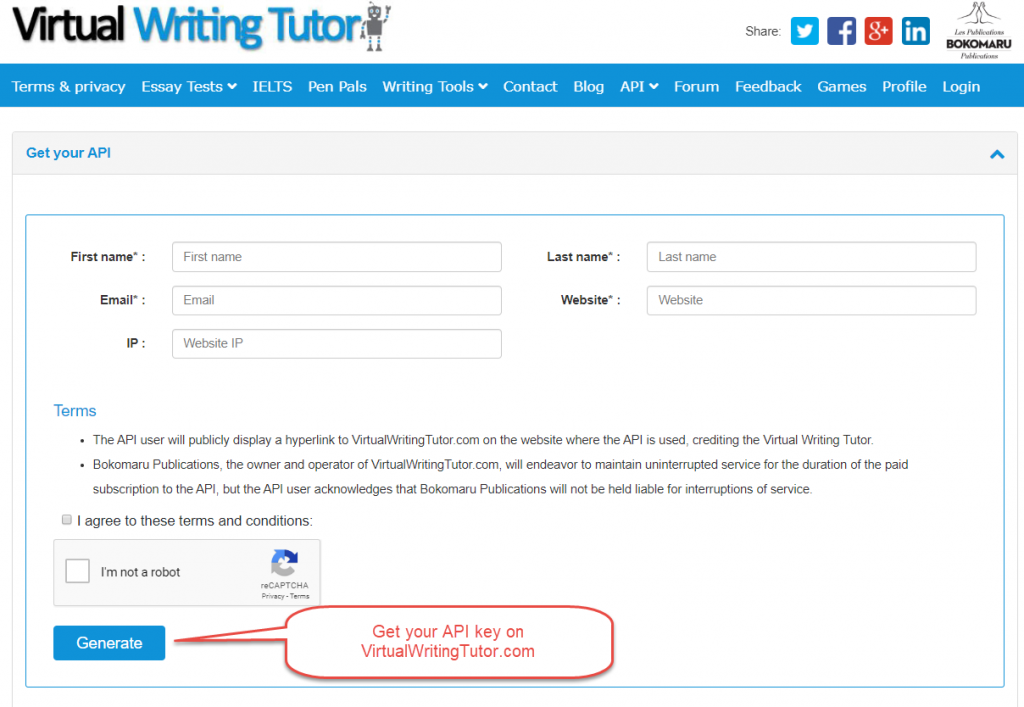 You add a Fast Assignment in the same way as you add an ordinary assignment. Turn editing on and click "Add an activity or resource." Select Fast Assignment from the list and click "Add."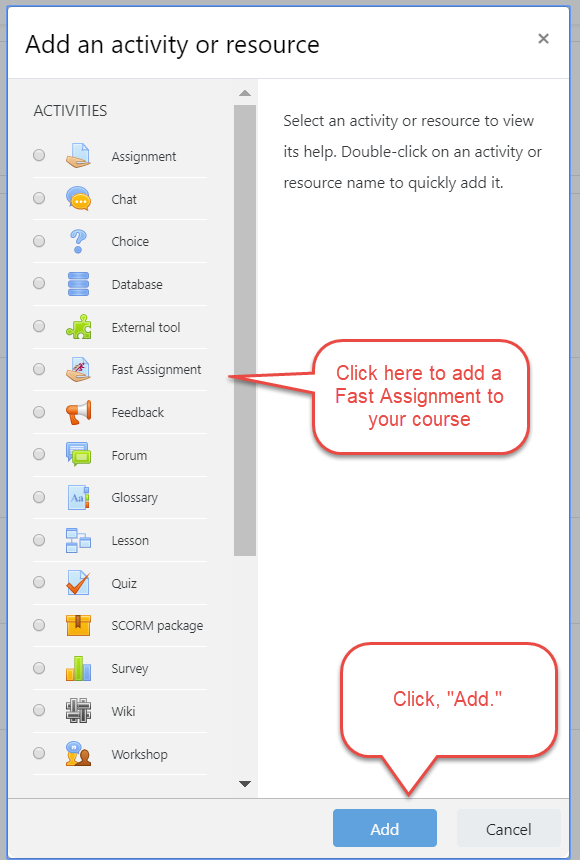 On the teacher's Fast Assignment settings page, you should do the following.
Check the remaining hits available in your API key account.
Select the category and test you want to add from the dropdown lists.
Click "Add" to add the writing task instructions and image (if there is one) to the description.
Control the number of hits students will have available to them. This helps you control your costs and access to formative feedback.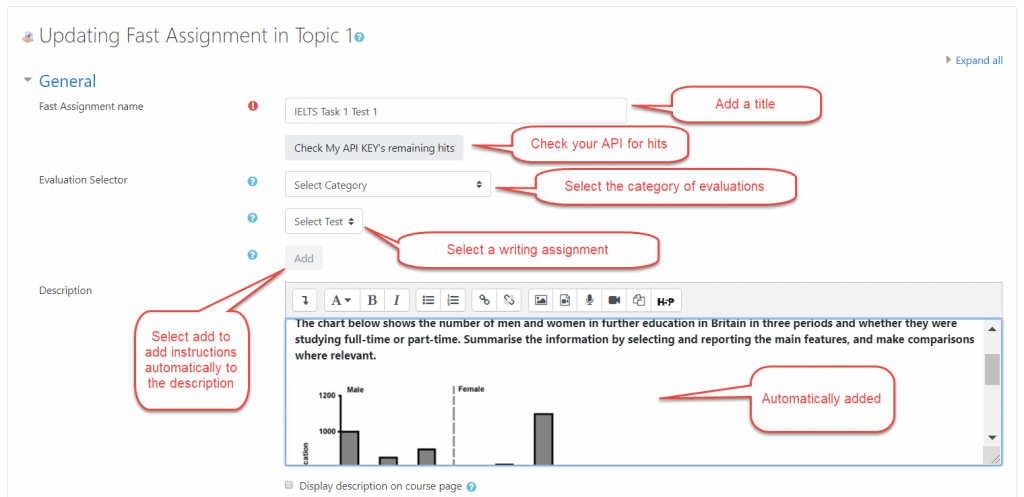 Make sure to select the feedback settings for the student and teacher. You can show the grammar check button and/or the automated evaluation button. Don't forget to give the teacher who confirms the students' grades access, also.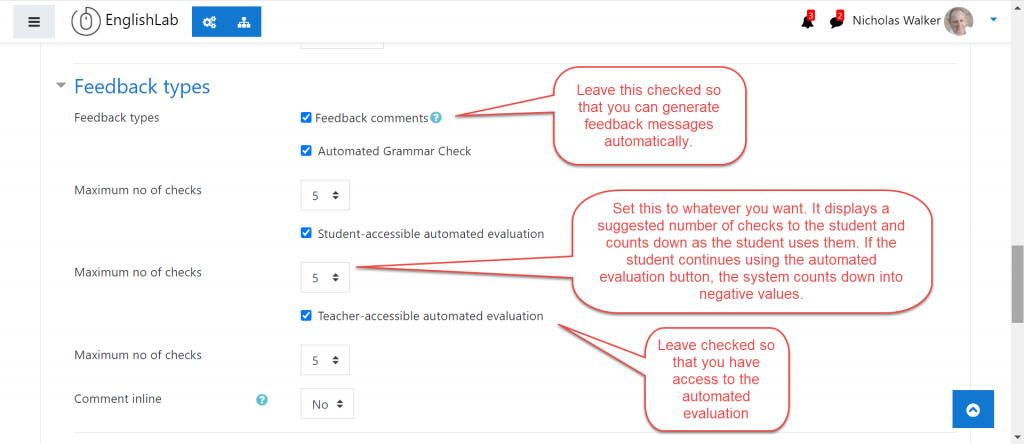 Students access the grammar checker and formative evaluations with buttons under the text editor. They can also see how many hits they have available to them. The teacher sets the number of hits on the activity settings page. ALternatively, the teacher can hide one or both of these buttons.

Teachers have access to an "Automated evaluation" button on the grading page. Click the button to send the students' text to the Virtual Writing Tutor for an evaluation. Fast Assignment will add the score and feedback comment to the grading form for you.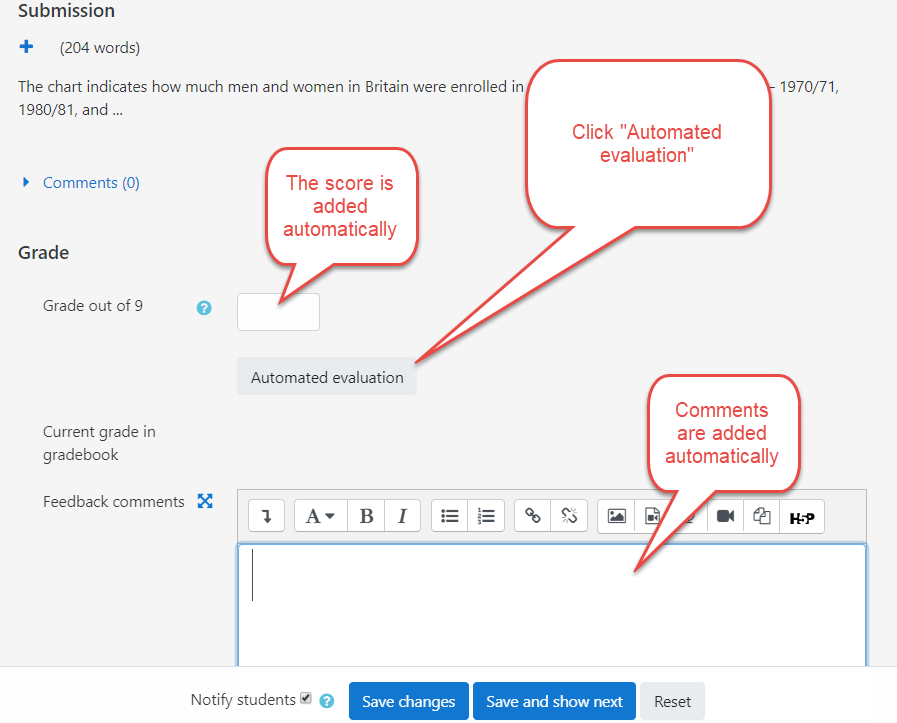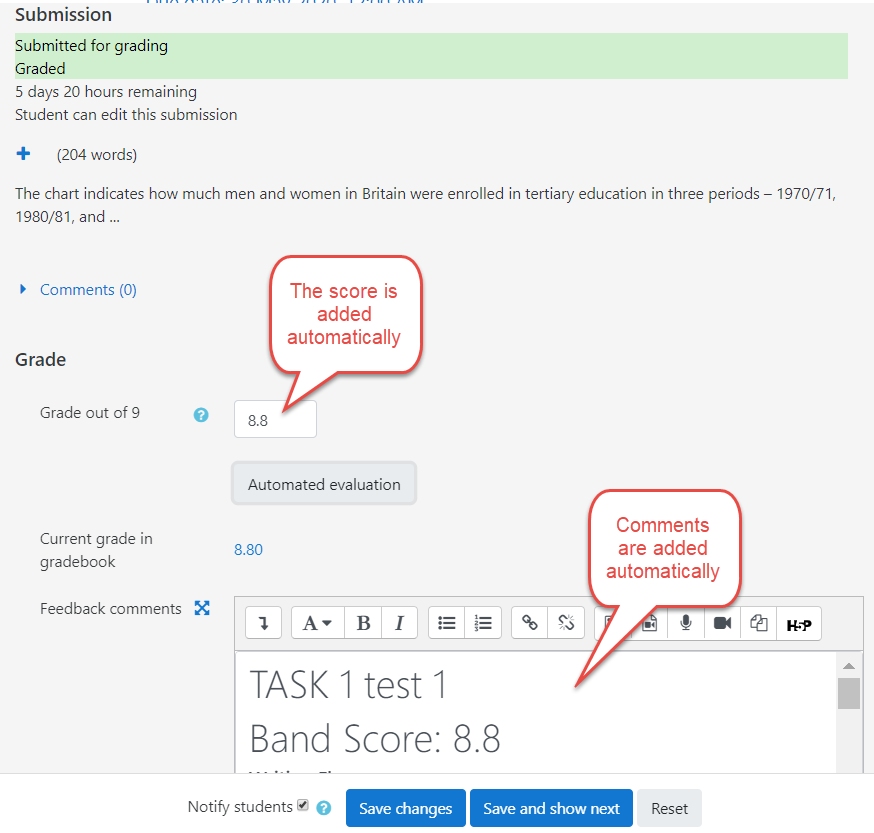 How much does it cost?
Fast Assignment is free to download and install. When you sign up for an API key, you get a free month with 10 automated evaluations and 100 grammar checks. That should be enough for you to decide if you want to continue using the API and Fast Assignment plugin.
Depending on the API package you buy because of the volume discount, automated evaluations cost only $0.025-$0.05 each. Grammar checks cost between $0.00025-$0.002 each. Think of it as an investment.
Consider the time you will save. If each essay takes you between 5 and 10 minutes to correct, you can save yourself about an hour of grammar corrections for about a penny. You could save about and hour of formative writing evaluation for $0.15 to $0.30.
You could always ask your school to foot the bill. Your schools' contribution would help support my efforts to provide a free grammar checker to less privileged learners all over the world.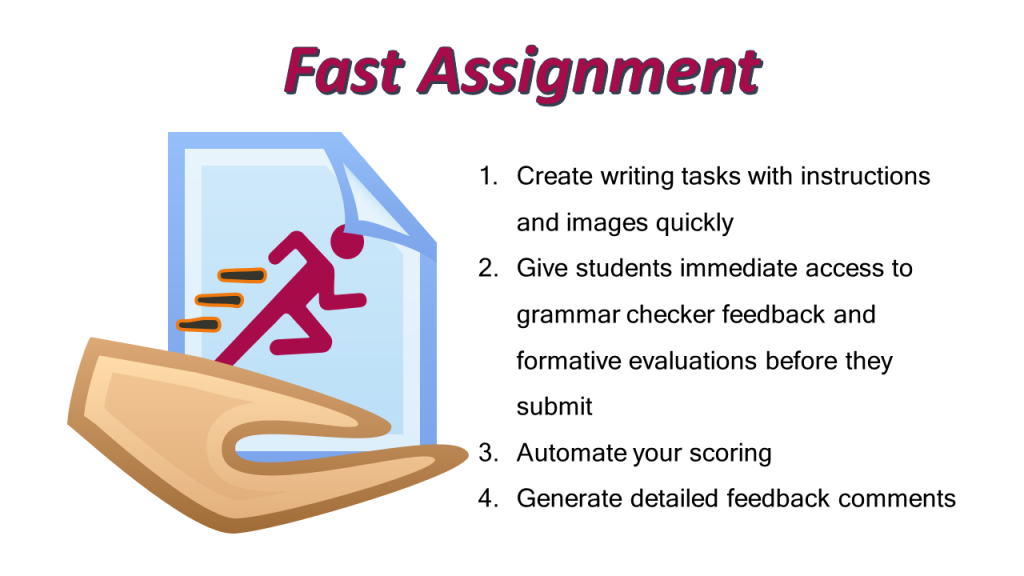 How reliable is the technology?
The Virtual Writing Tutor runs on a powerful 48-core server with a backup grammar checker. If one grammar checker is being updated, the other takes over. The server never needs to shut down for kernel updates, so we believe we can provide 100% availability with zero downtime.
How reliable are the evaluations?
Fast Assignment and the Virtual Writing Tutor use objective measurements of writing quality. These measurements correlate well with human judgements of quality, but they will never match exactly every teacher's subjective judgement.
Cleverly constructed nonsense may receive a high score and eccentric but brilliant writing may get a lower score than it deserves because the Virtual Writing Tutor does not read the text for meaning.
Students, however, like the automated evaluations they receive and say it helps them improve their writing.
How can I use Fast Assignment without my own Moodle?
If you don't have your own Moodle website and would like to use Fast Assignment with your own students, I can offer to create a course for you on either Labodanglais.com or the VWT's Moodle. Your students will be asked to use their credit card to help pay for the hosting and the support customizing your Moodle course.